This chocolate cake is a great opportunity for us to enjoy family time while doing something we love and allowing everybody to participate in. What is more, this is a delicious recipe, proved by the fact it doesn't last almost a day since we do it.
Ingredients
4 eggs
230 ml of milk (we use oat milk)
300 gr of sugar or panela
160 gr of olive oil
250 gr of fine wheat flour
1 packet of yeast
3 tablespoons of pure powder cocoa
Butter
Preparation
Preheat the oven 170ºC.
We prepare a rectangular mold. First we spread butter or olive oil and then sprinkle flour so that the cake does not stick. This part is very easy for children and you can offer then a brush to spread or they can use their own clean hands.
Let the children shell the eggs and mix them togheter with the sugar in a glass blender (they can need some help with other type of blenderes).
Beat the mix during 5 minutes or so, to let the air fill the mixture. Children can weigh the rest of the ingredients and pour them, if they feel capable. These family situations help them to gain aoutonomy and self-confidence.
We add the milk and mix, then we add the olive oil and mix again during two minutes every ingredient.
Finally we add the flour and the yeast and we mix everything until it is homogeneus.
Pour half of the mixture in the mold.
Add and mix the cocoa powder in the remaining half.
Then pour the mixture with cocoa over the mold slowly so that flavors do not get mixed.
It is on you to add some chocolate chips, as for chocolate lovers, like in our house.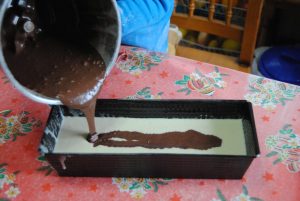 We bake during 40 minutes to one hour, it depends on the oven, mine is perfect at 165ºC and 40 minutes.
In order to know if the cake is at its point you can just click with a skewer, if it comes out dry, your cake is ready super delicious.
Patricia