No one is born knowing how to be a mother.
It is very important during postpartum not to stay alone. However, this day will come, sooner or later. This happened to me exactly one month after giving a birth to my lovely, first child. All my relatives were to busy to stay with us at that evening. At the same time it was full summer and all my friends were having fantastic time, partying, enjoying cultural and night life of Wrocław. Only I – in my opinion – was alone at home with a baby girl, who didn't like to sleep. I was sad and depressed, and fully convinced that my social and cutural life just came to an end.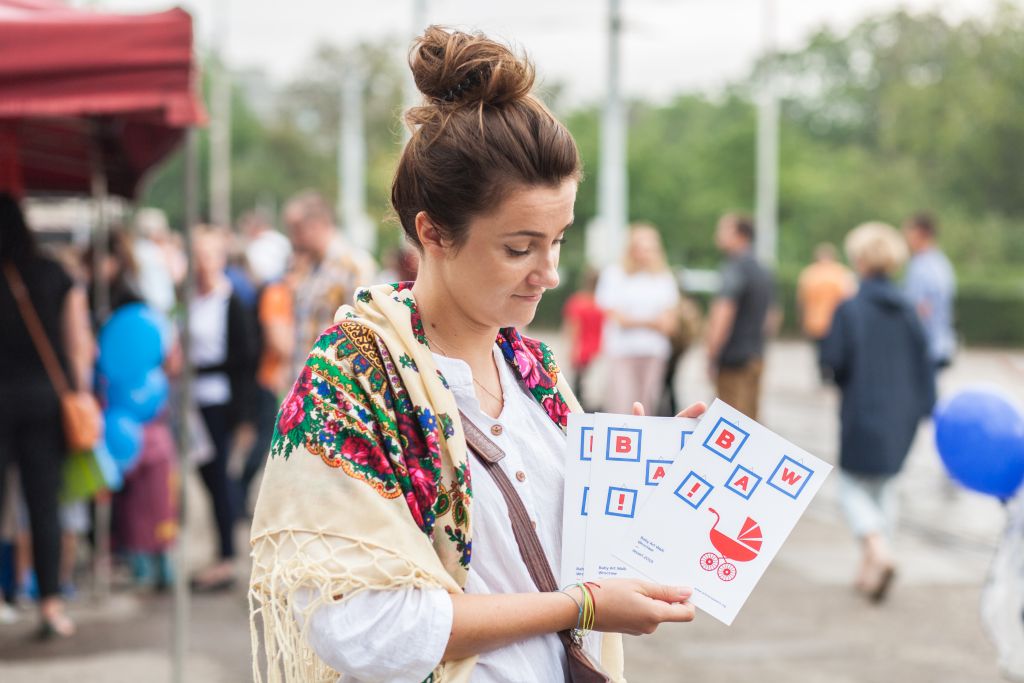 Exactly that night came the idea to create a space in which young mothers, including me, will be able to realize their social and cultural needs. At that time, this idea did not yet have a specific framework, but the energy was born, which later allowed for the creation of an initiative that I called Baby Art Walk.
A few months after that night, I went with my daughter to an exhibition ending the project I carried out, to Istanbul. It was a project supporting the cooperation of cultural managers from Turkey and the European Union. Despite my fears, in a wonderful, international atmosphere, it turned out that together with a small child you can do a lot of interesting things. For example, you can visit the city and its numerous museums and galleries. Then I understood that in my city an initiative is needed that will help mothers like me break barriers and go beyond the usual paths. An initiative that will not allow for self-exclusion of mothers from social and cultural life. This is how Baby Art Walk was born.
Since then, over half a thousand mothers have participated in our initiative. Together, in the company of our children, we meet and visit the most current exhibitions and events. Participation in all our walks is voluntary, free of any cost and stress. Our mums remain active, participate in social life, and thus are less exposed to isolation and possible related mental illness.
Baby Art Walk is an initiative based in Wrocław, Poland. To be updated about upcoming meetings follow Art Transparent Foundation and Baby Art Walk Spring Edition.
Author: Karolina Bieniek – mom of 2, doctorate in social sciences, scientific interests involve research on peace, foreign policy and post-conflict reconstruction. Experienced manager of cultural events, local development, grass-roots cultural initiatives and non-formal education projects. Culture animator, trainer and facilitator in the field of global education and anti-discrimination activities. Possess 17 years of experience in non-profit sector, 10 years of experience in brand marketing, and 6 years of teaching experience at the university. Experienced in project proposal writing and project cycle management. Extensive experience in public relations, management and collaboration with local authorities and local communities. Scientific and project experience in countries of the Global South.